Please find below a list of flower making books worthy having in you library (with a brief review):


❀ 1 ❀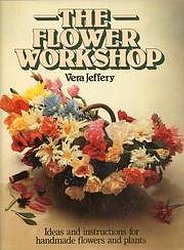 One of out of print book is
The Flower Workshop
by Vera Jeffery.
- basics of the craft (tools and supplies, how to prepare the fabric etc.)
- step-by-step instructions in text and line drawings for more than 40 different flowers and plants that are made out of paper as well as fabric
- many original ideas for the use of the handmade flowers in colour pictures.
- flowers include roses, poppies, daisies, carnations etc. as well as more unusual ones like azalea, stephanotis, hollyhock, orange blossom and others.
- special occasions (Christmas flowers, Easter and weddings)
The Flower Workshop
by Vera Jeffery is a great book to have on your shelf, and what's more, you can pick your preloved copy for a fraction of its price.
Click here to purchase the book
❀ 2 ❀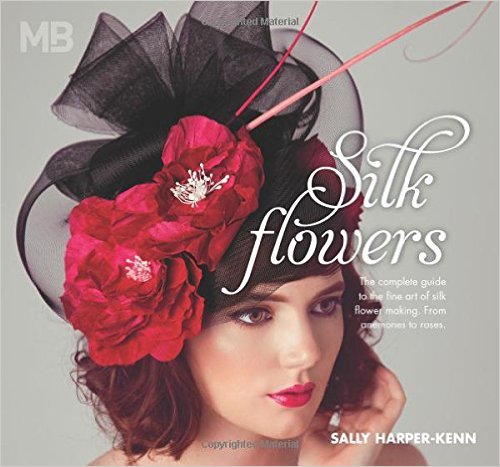 Silk Flowers
by Sally Harper-Kenn must me the latest English language book on fabric flower making.
- colour photographs
- intro about fabrics, tools, stiffening and painting the fabric
- instructions on 6 fabric flowers (2 similar roses, narcissus, poppy, peony and anemone) to be made with a flower iron.
- good for beginners, otherwise too simple and brief
Click here to order this book
❀ 3 ❀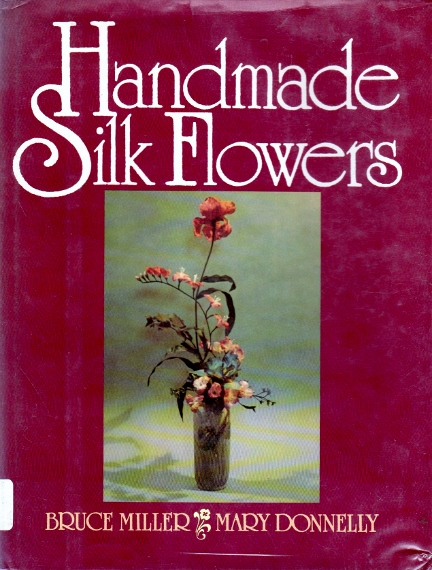 Handmade Silk Flowers
by Bruce Miller and Mary Donnelly was published in 1986.
- a definite must-have manual for a fabric flower artist
- invaluable book for beginners in the craft
- a thorough introduction to the process of silk flower making (tools and fabrics review, fabric stiffeners and basic techniques and processes)
- patterns and instructions for 44 different plants including such rarities as Rhododendron, Geranium, Dogwood Blossom, Maple and Ivy Leaves etc.
- info on wedding flowers, tips on making bouquets, boutonnieres, corsages, hair - a colour guide to wedding flowers.
- patterns and flowers a a bit on a simpler side
- mostly black and white
Click here to buy on Amazon
❀ 4 ❀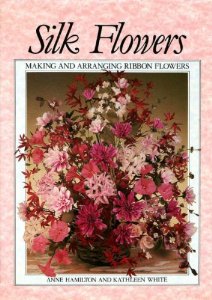 Silk Flowers; Making and Arranging Ribbon FLowers
by Anne Hamilton and Kathleen White was published back in 1988.
- introduction about some basic techniques including cutting, texturing, reinforcing and lining, taping, wiring, as well as making flower centres and assembling
- clear step-by-step instructions for nearly sixty different flowers and plants including poinsettia, lily of the valley, fern, eucalyptus, Japanese maple etc
- some designs require a flower iron
- a section on silk flower arrangements, both traditional and modern, wedding flowers, church flowers, flowers as gifts and flowers to wear
- a really useful book for any flower maker with a variety of templates and ways of using the flowers
The book uses special ribbons for flower making but stiffened natural fabrics can successfully substitute them
Click here to order this book on Amazon
❀ 5 ❀
Adornments: Sew and Create Accessories with Fabric, Lace and Beads
is written by Myra Callan, an accessories designer and a successful Etsy entrepreneur.
- a number of projects ranging from earrings to fascinators
- a variety of techniques, and different combinations of them
- plenty of ideas on how to use silk flowers in different accessories ( fascinators, sashes, bib necklaces, earrings etc) to create wearable pieces of art
- detailed instructions with colour pictures
- silk flowers presented in the book are rather simple
- a flower iron is needed for some projects
Click here to purchase this book on Amazon
❀ 6 ❀
Handmade flowers from Paper and Fabric
by Steve and Megumi Biddle was first published back in 1991.
- book on fabric, paper and ribbons flowers
- intro on some general techniques of flower making and tools
- no need to use a flower iron
- instructions for 28 flowers and plants including rare ones like foxgloves, bird of paradise, strawberries, frangipani, nerine etc.
- tips on how to assemble corsages and bridal bouquets
- versatile book for a wide audience of crafters
Click here to order this book on Amazon
... to be continued ...
To get more useful information like this directly into your inbox please feel free to subscribe to our newsletter below